Buying house office interior design should be done by an expert interior firm as interior design is very crucial for business growth. Cubic interior design expertise in buying house office interior design.

Best Buying House Office Interior Design Firm in Dhaka, Bangladesh


A buying house office is a medium between the buyer and the manufacturer to handle and approve any business deal. Especially, cloth retailers, wholesalers, and manufacturers or exporters all benefit from the services provided by a garment-buying house. Local & international clients regularly visit a buying house for business purposes. For this reason, a buying house office interior design should be done perfectly because it influences buyers to trust the company.


Why do clients choose us for buying house office interior design?
We believe every client has unique requirements and tastes. Therefore, we have compiled a collection of the most cutting-edge and effective strategies for achieving your objective. Experience endless creativity that never fails to amaze you. We're an innovative interior design firm that aims to streamline the process of designing and furnishing for buying house office interiors for our clients.
Creative & professional Architects
Consultancy with experts
Budgeting plan
2D/3D Visualization
Own production house
High-quality office furniture
Freedom to order colorful, uniquely designed furniture
Affordable Cost
Top-notch quality service
Quality assurance
Hand over the project on time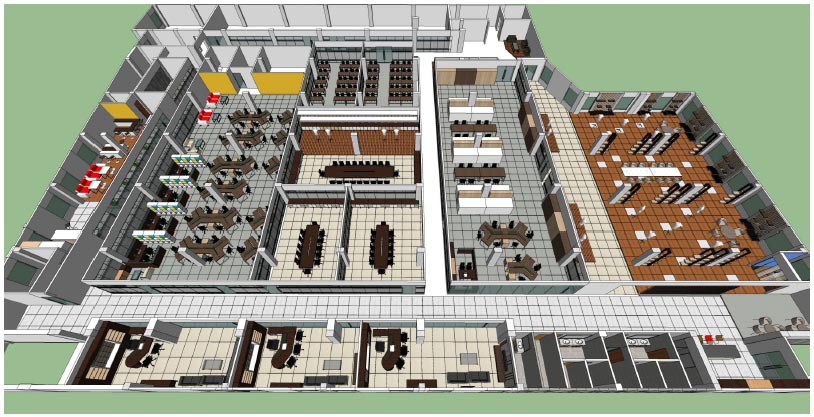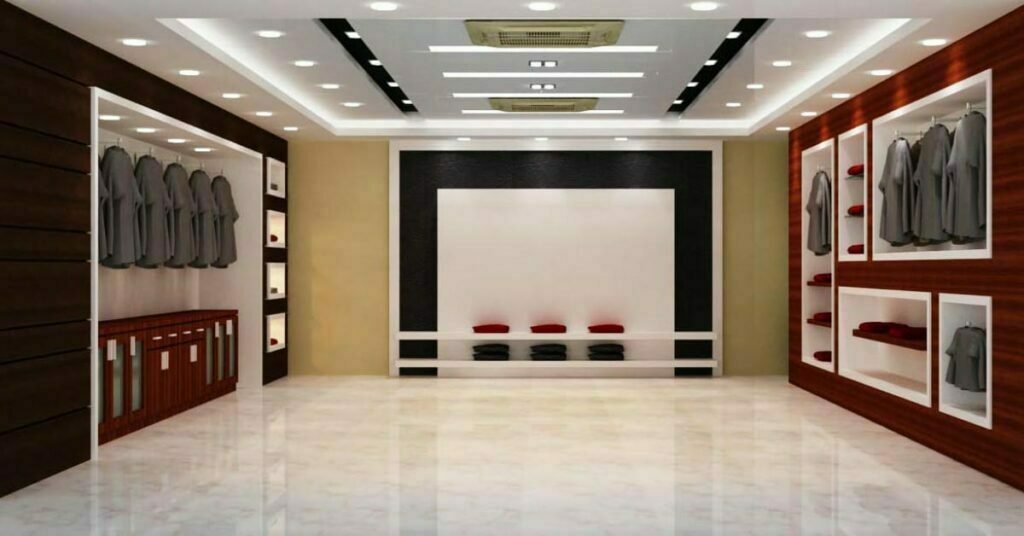 Expert buying house interior work
A buying house required many rooms as it is a giant business service. Especially, every business or company has a common area which is the reception area. Where regular visitors & clients come to collect information. It is basically the entrance hall room. Besides, the waiting room is also a necessary room for a buying house company. However, many local & international clients visit buying house offices to see samples.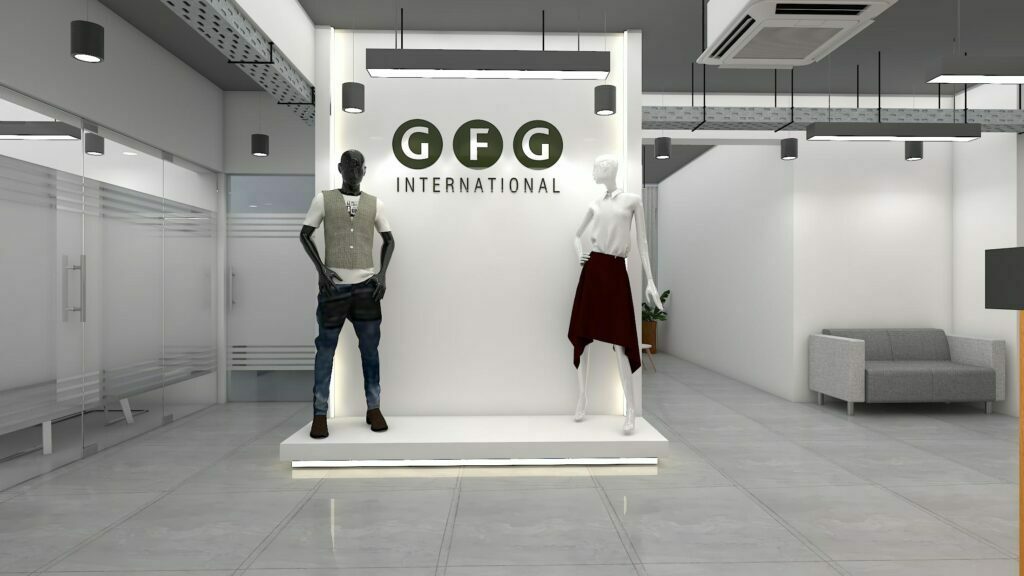 Sometimes personal or small meetings are held with clients & sometimes big meetings. For this reason, the meeting room & conference room are the most important room to build. Above all, a product display showroom or display center is the main concern for a buying house company. As the company has to show the samples to the clients in an attractive way. Similarly, there is much other room that is essential and accommodates getting a perfect & professional buying house. Cubic interior design firm has designed many top buying house office interiors in Bangladesh. Let's have a look at how our expert architects plan and execute work to accommodate a successful buying house office interior.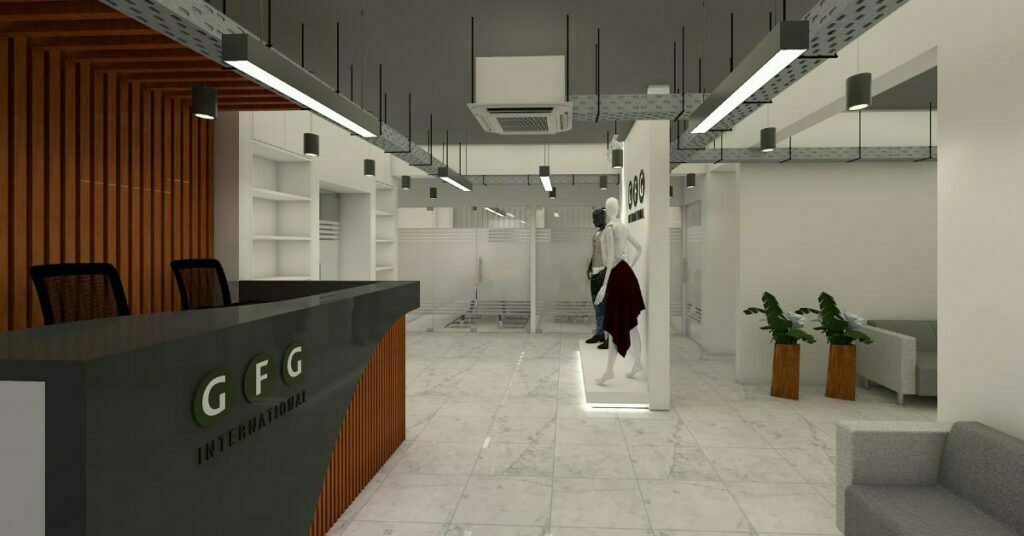 Reception Area
A reception area is the main focal point of any business or commercial area. The reception area accommodates the entrance. Here basically clients or visitors comes to get information. A well-designed reception area can represent brand culture and create brand value for visitors, buyers & clients. Especially, creating a welcoming reception area following the brand logo color scheme helps to recognize the brand effectively. Cubic knows how much color scheme is crucial in interior design and branding. Therefore, we design the reception area in concern of giving a welcoming environment with brand-promoting effective regulation.
Waiting Room
The waiting room is also an important area as the reception area. Here clients or visitors wait for a while. No one likes to wait for a long time. For this reason, it is so crucial to make sure visitors to your waiting area have a pleasant time and leave with a positive impression of your business. A comfy waiting sofa or visitor chair is the main element of a waiting room. As waiting is a boring thing, decorating the waiting room interestingly can keep up the mood of the visitor or client.
In any organization, the Chief Executive Officer (CEO) is a top priority. As the CEO oversees the company's overall direction and communicates with the Board of Directors directly. The CEO of a company typically plays a pivotal role. So it is crucial that their office be well-designed. as this will allow them to give their full attention to their duties and to make the best possible decisions for the company.
To make the office environment more professional our expert buying house office interior designer keeps some important things in mind and implements them while they execute the work. The office space is the first consideration when setting up a chief executive officer's office. This is not a typical workstation space; the CEO needs a space where he can conduct private conversations, host small meetings, and work on sensitive projects.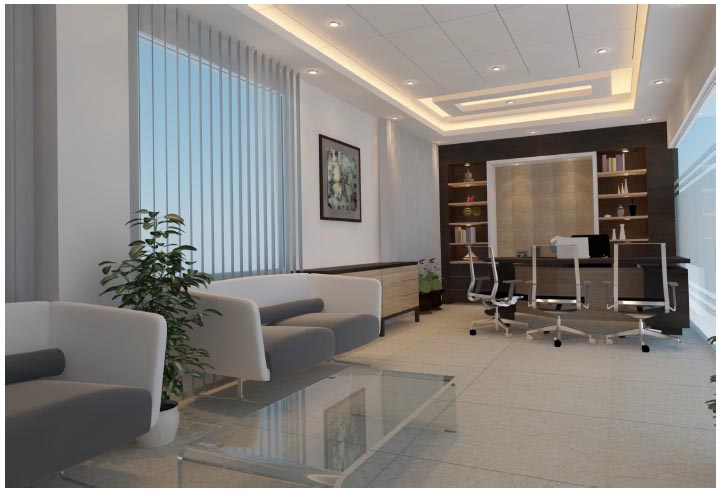 We set aside specific areas for specific activities, such as a meeting area with a sofa and a table. Also, we design a special area for the CEO with a designer luxury CEO desk and ergonomic boos chair where the CEO can work & put some chairs in front of the CEO's desk so the CEO can have a private meeting. Additionally, our expert interior designer used some sort of sound observing material to reduce background noise for more comfortable conversation.
The CEO's office is the ideal way for branding business. Because the CEO frequently has business visitors, including potential clients and buyers. Having a well-branded office space can attract more clients. A great way to convey the company's culture is through the CEO's office color scheme. Therefore, we use the company's color scheme for more effective branding.
Buying house product display showroom interior design
A buying house's most vital space is its product display showroom or display center. This is where all the samples are laid out for potential buyers to see. There's no denying the power of tasteful interior displays to entice potential buyers and set the tone for a pleasant experience once they're inside the room. Basic requirements of interior display include a focus on cleanliness and the systematic and neat arrangement of stock. Buying house frequently uses mannequins as part of their interior displays to showcase the clothing, accessories, and other items to display as samples. Contrast, balance, emphasis, movement, white space, proportion, hierarchy, repetition, rhythm, pattern, unity, and variety are all elements (or principles) of visual design. By combining these guidelines, we can make something that is both aesthetically pleasing and useful to its potential clients.
Trial room
A trial room's layout is usually cubical. Clients/ buyers and models can take their time trying on garments in this room. A mirror is a standard fixture in any given trial room. Additionally, it's important to have enough room to store one's bags, clothes, and other items without having to rummage around. Moreover, a dedicated trial room is much important for a buying house office.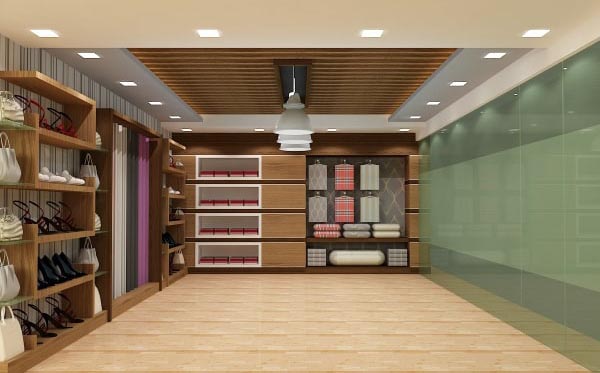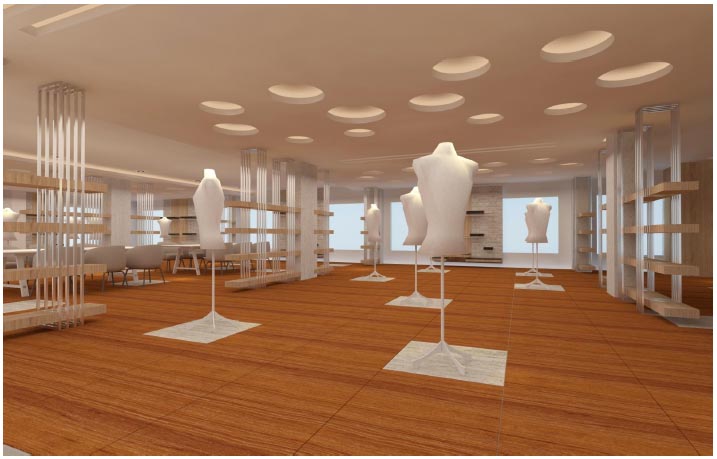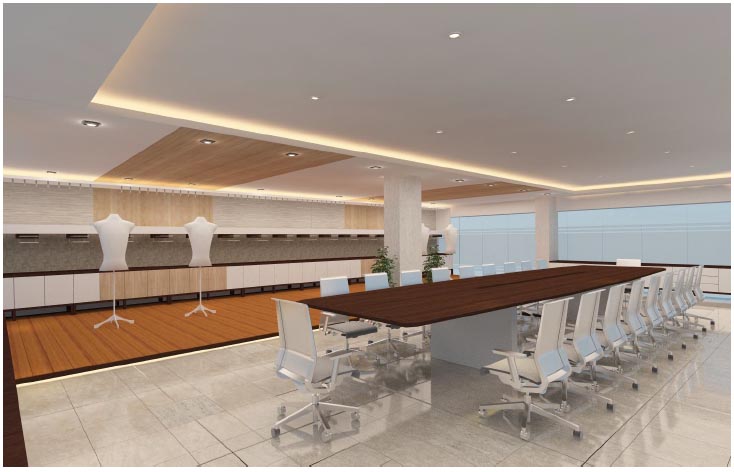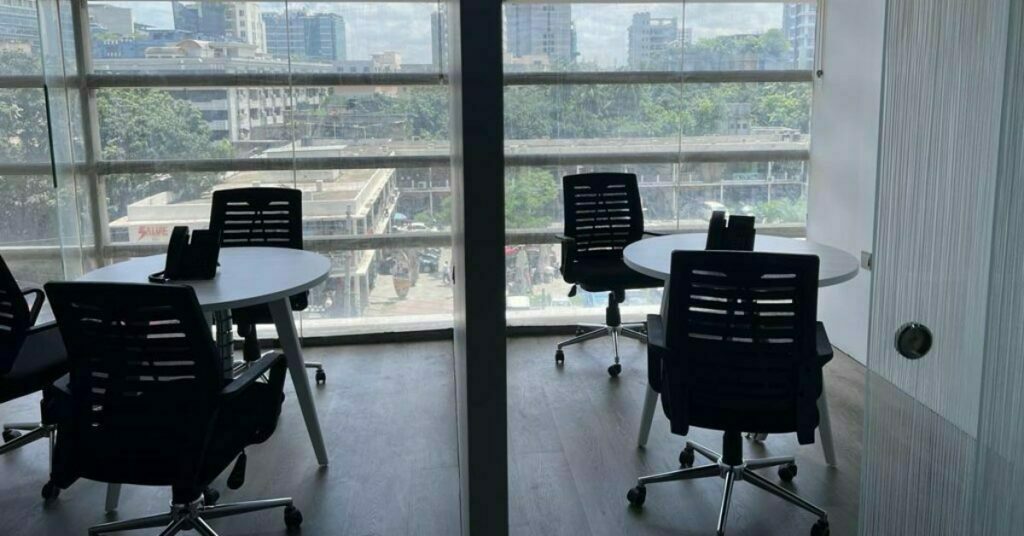 Buying house conference room interior design
A conference room makes a fantastic first impression. It's an appropriate professional setting that shows you are serious and dedicated to the business and you value your professional relationships and your clients. Similarly, when you have team meetings, arranging it in a professionally designed conference room puts everyone in a more serious and businesslike frame of mind.
Besides, a conference room that accommodates the office provides more privacy and sustainable use. You don't have to waste time or money to book any conference hall at any hotel or hall. Finally, we can say that a conference room is crucial for any buying house office interior.
Flexibility is essential in today's fast-paced business world. For this reason, Cubic designed modern conference tables with many facilities like power & technology modules that provide a smooth meeting. Your clients and business partners will be more energized and connected if they have easy access to power outlets, data ports, video connections, and audio jacks.
Cubic interior design is there to help you to design a productive and modernized conference room.
Meeting room
Usually, meeting rooms are small in size. A corporate office or any commercial business space uses a meeting room for casual meetings with clients while sipping coffee. Sometimes office staff use meeting room to discuss work. In a meeting room, there is a small table and chairs are found. There are not many facilities as in the conference room we found. But a meeting room is great for small talk or meetings.
Training room
Many companies are aware of the goodness of training office staff. From good training, employees can learn office ethics and improve their work efficiency. However, many companies now train their staff on regular basis. And some companies can't be able to do train because they don't have any training center. Establishing a training room inside the corporate office is in modern time demand. Especially, buying house office needs this as they work with mostly international clients. So the employees must be well trained so they can handle clients or can do their work professionally. It leads the company to achieve its goal successfully.
Buying house workstation space design
Many employees work in a buying house office. Therefore, workstation space is needed to get an organized workspace. A simple workstation can not meet the needs of workers. For this reason, we give special concern to designing the workspace more aesthetic and functional. Because we understand that, workers' performance is another key point to reaching the business goal. And your workers can give their best when they feel more comfortable in the workspace. So whenever we design a workstation space, we make sure the space looks aesthetically pleasing and offers more functionality. To get a productive & beautiful work environment our experts maintain some basic yet essential things for example-
Decor the office interior that encourages creativity.
Choose the office interior color wisely as it influences workers.
Design ergonomic & stylish office furniture that promotes comfort & good health and looks beautiful.
Design the workstation desk with many functions so that employees can keep their desks organized.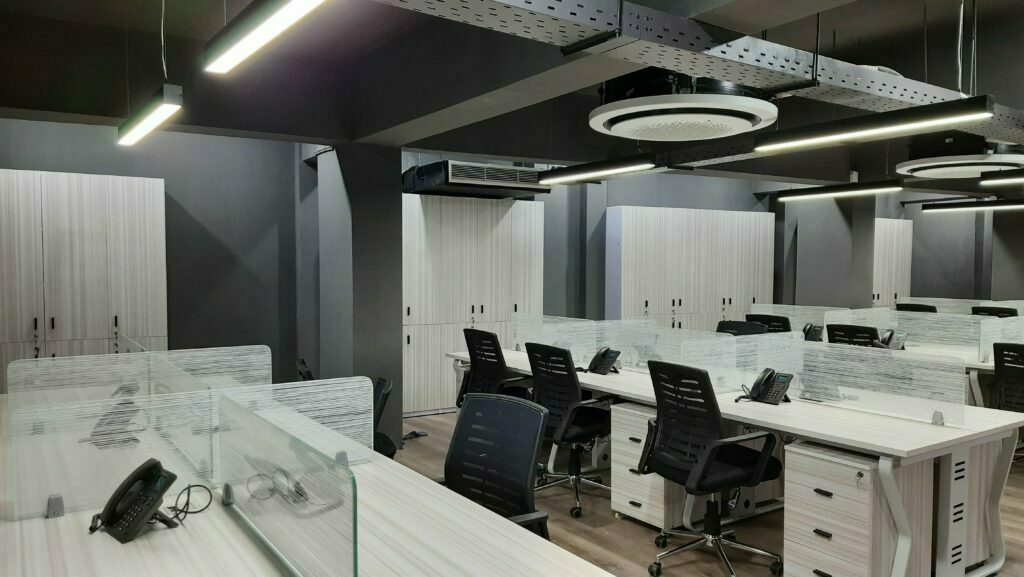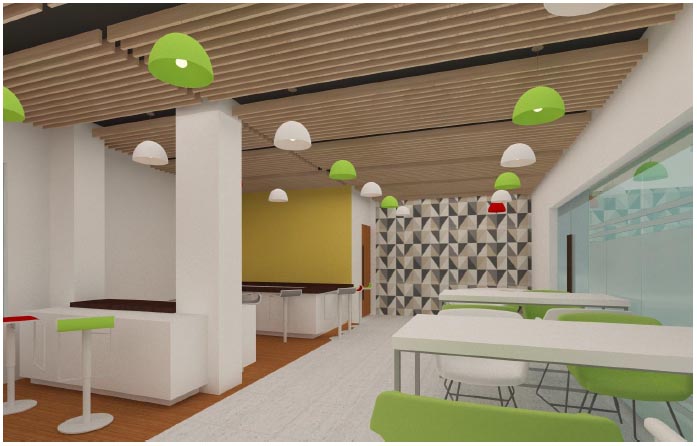 Dining space
Accommodating dining space for employees makes the office more convenient for employees. Since they won't have to rush through lunch and can take a break instead. In addition, they can talk to one another about their work and future plans, which will help everyone involved learn more and become more efficient.
We created a beautiful and revitalizing dining area for a corporate purchasing department. A green color scheme is ideal for creating a soothing and safe space where people can relax and recharge.
Washroom
The washroom is a necessary room for any office. As a buying house or any corporate sector has male and female workers, companies accommodate separate washroom facilities for them. It helps to maintain privacy and user convenience. Besides, a well-designed washroom that maintains hygiene is good for workers' well-being.
Cubic always designs interiors with up-to-date concepts. For example, when it comes to designing washrooms, we design with modern washroom supplies and accessories. Such as sensor taps, automatic electric hand dryer machines, sensor-operated soap dispensers, and many other high-quality washroom equipment.
Buying house server room work
Server rooms are secure locations where a company's network servers can be managed from a single location. These spaces require careful planning for everything from power and connectivity to temperature regulation, ventilation, security, and even fire and seismic safety.
Cubic interior design executes and implements all the electrical and IT-related work for its projects. Electrical gadgets that are used in our projects are all imported and made with advanced high technology.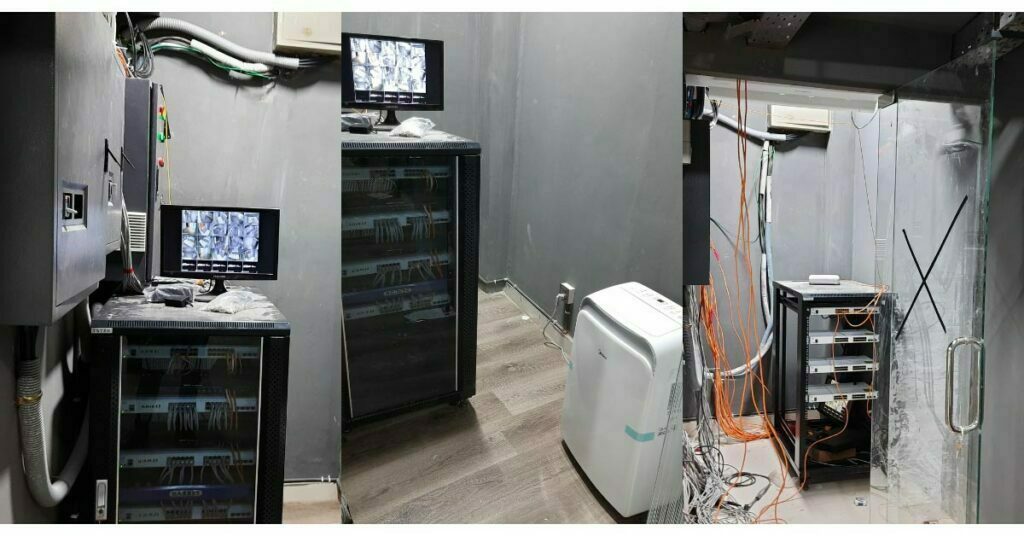 Get Our Buying House Interior Services
We offer a comprehensive service all over Bangladesh since we are the industry leader in buying house office interior design. If you are looking for a professional & expert interior design firm for your buying house design then contact us right now through any of our social platforms.
Moreover, our professional and creative team of highly experienced and devoted buying house interior designers can come up with fantastic concepts that meet your aesthetic and practical requirements. After a discussion with you, we'll handle all the planning and execution of the project, while keeping you up to date with every step of the work. Cubic interior design provides a "turnkey" service, meaning we handle everything from start to finish.
Seeking expert assistance to create unique & productive buying house office interior?