| | |
| --- | --- |
| Feature | single seater office workstation desk with file cabinet and drawer |
| Title | executive office desk with mobile drawer and file cabinet |
| Type | Office Furniture |
| Product Category | Workstation Desk |
| Color | Customization available |
| | |
| --- | --- |
| Material | HPL or Melamine Board as per client requirements |
| Size | Standard size or customized size |
| Usage | Garments/Buying House/commercial office/ corporate office/Small Office/Big Office |
| Style | Modern Designs |
| Frame | Best Quality Imported Metal Frame |
OUR PRODUCTION PROCESS
3D Layout Design
Custom Furniture design
Custom board and color selection
Board lamination
Metal Work Solution
Metal Vending
MS Powder Coating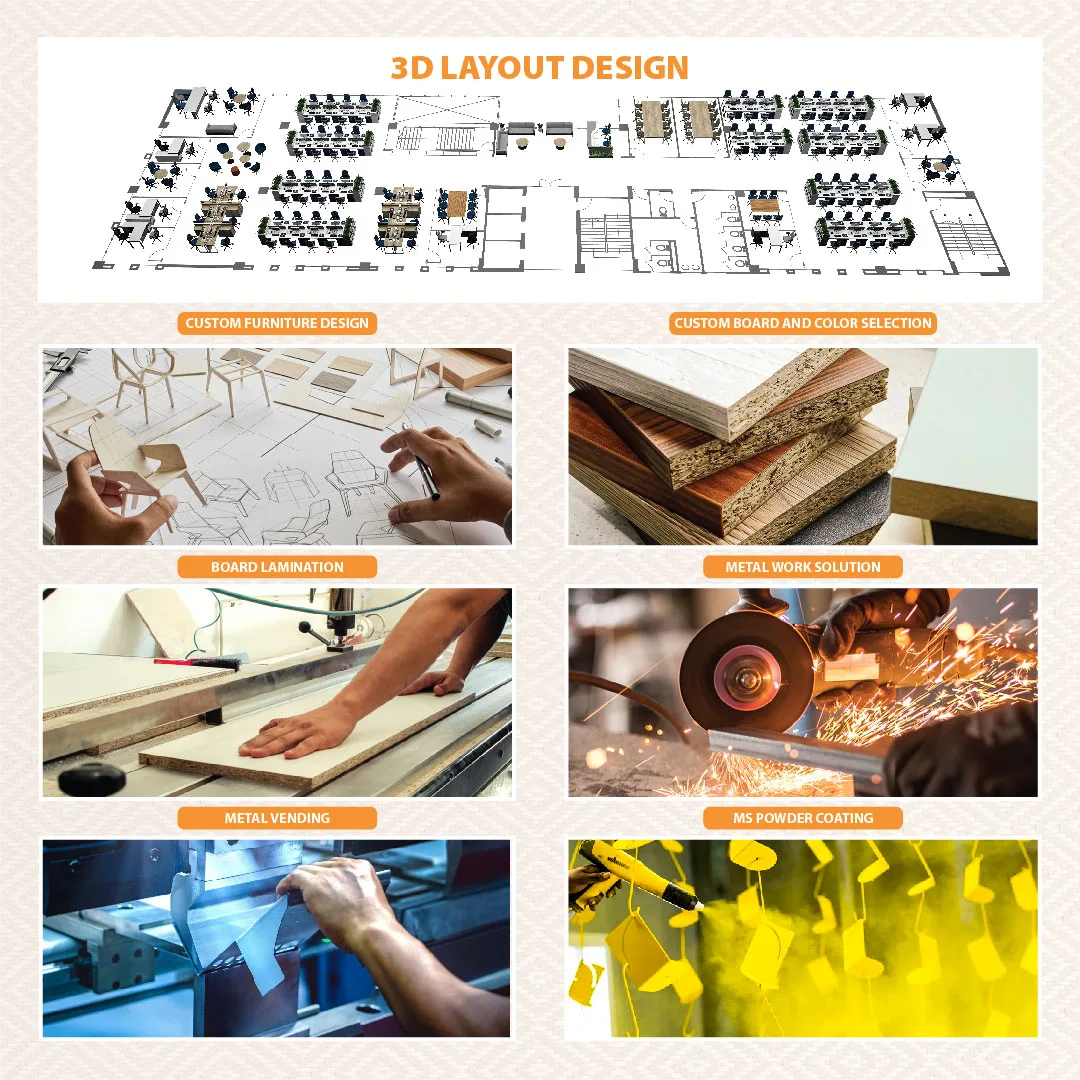 OUR QUALITY CERTIFICATES

CUSTOM OFFICE DESK FOR YOUR OFFICE WORKSTATION
A workstation desk is a type of desk that is designed to provide a comfortable and efficient workspace for professional or creative individuals. Workstation desks are typically larger than traditional desks and feature multiple surfaces, shelves, and storage compartments to accommodate a variety of office equipment and supplies. They may also include features such as built-in cable management, adjustable height, and ergonomic design.
Workstation desks are available in a wide variety of styles, materials, and finishes to suit any taste or budget. Some of the most popular materials for workstation desks include wood, metal, and laminate. Workstation desks can be found in a variety of colors and finishes, including black, white, wood grain, and metal.
Our team of experienced office interior designers can help you choose the perfect office desk for your space. We will work with you to consider all of your factors, including the size of your workstation area, the style of your office, and your budget.
Once you have chosen the perfect workstation desk, we will manufacture it to your exact specifications. We will then deliver and install the desk in your office, so you can start using it right away.
Some of the special features of our Workstation desk are:
Custom-made to your specific requirements
Made with high-quality materials, including HPL board, melamine board, and metal frames
Durable and easy to clean
Variety of shapes, sizes, and finishes to choose from
Variety of storage options available
Easy to assemble and disassemble
Attractive and stylish design
Affordable price
Customized size
Delivered and installed by our team of experienced professionals
Benefits of Using Our Workstation Desk
There are many benefits to using a workstation desk, including:
Increased productivity: A workstation desk can help you to be more productive by providing you with a dedicated workspace that is organized and efficient.
Improved comfort: Workstation desks are often designed with ergonomic features such as adjustable height and keyboard trays to help you to maintain a comfortable posture while working.
Reduced stress: A well-organized and comfortable workspace can help to reduce stress levels and improve overall well-being.
Increased storage: Workstation desks often feature multiple shelves, cabinets, and drawers to provide ample storage for office supplies and equipment.
Improved aesthetics: A workstation desk can add a professional and stylish touch to your office space.
Contact us today for a free consultation on your custom Workstation desk. We will work with you to create a Workstation desk that is both stylish and functional, and that perfectly meets your needs.