A workstation desk is a common thing in an office. It may look simple but a well-designed workstation desk looks good.  Besides, it's easy to use and takes less space. Nonetheless, it has a major effect on the employees. It's good for one's health in the long run, and it boosts productivity and body posture. That's why you must pick a workstation desk layout that suits your needs and preferences.
8 Best Office Workstation Desk
When you have a simple traditional workstation desk for work, you will keep your file and other office supplies on the table. Which will look messy. So it will distract you from doing your task.
A modern design workstation desk has different types of shapes, drawers, and file cabinets which will give you comfort to use. You can use drawers and file cabinets as per your work need which will make your desk look organized and tidy. As a result, you will be able to spend more time and effort on your work. Therefore, it is essential to choose the right workstation desk design for your office.
How to choose a workstation desk
There are many types of office workstation desks to choose from. Sometimes we get confused while choosing a workstation desk for our office seeing the variety of design of it. You should not choose the workstation desk as per the outlook or the color of it. When looking for a workstation desk, keep in mind the layout of your office and the amount of space you have available. So that the workstation desk takes up no more room than necessary. If you choose the right shape of design for your office it will give your office look more creative, useful, and more space to move easily.
The color of the office workstation desk is essential as well. Do not worry about the color because we've customizing options. You can customize the workstation desk color without any hesitation.
Let's see some of our best-selling workstation desks and their utility.
Office Desk with Cabinet 8 Person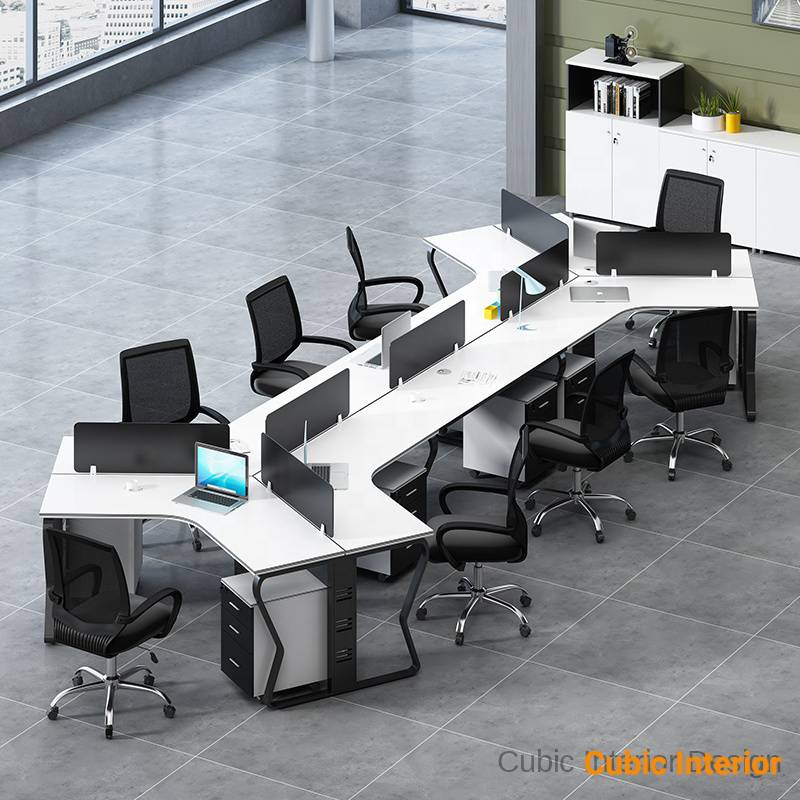 A proverb goes, "Teamwork makes the dream work". This office desk will provide you with vast space which will give room for 8 people, where you can work as a team. It has 3 drawers for every seat. So you can put your files in your private drawer.
Its unique curvy design and combination of white and black colors will give you a perfectly classy look for people.
7 Person Office Desk with Cabinet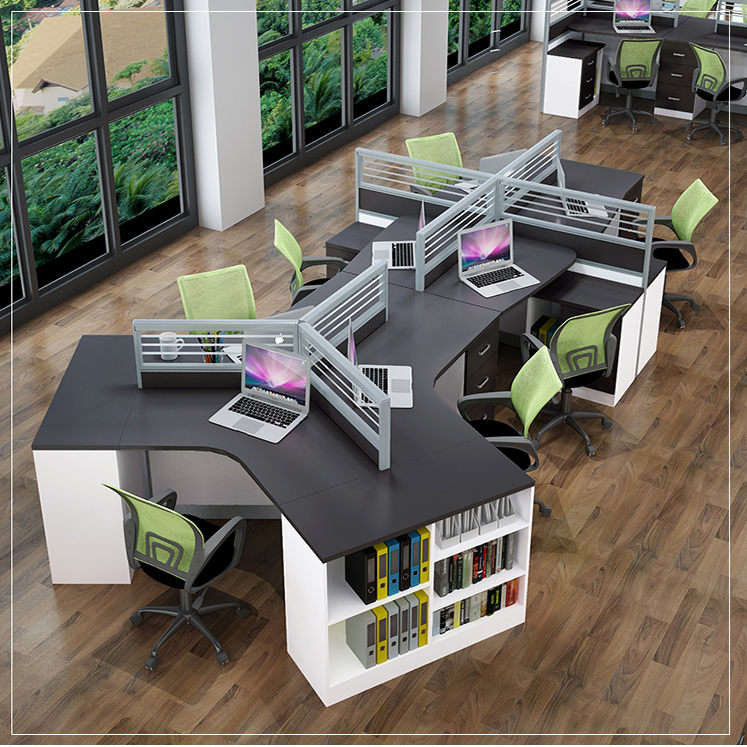 "Never stop learning". Reading books regularly makes a person wiser. When we read every day even one page of a book it helps our brain to grow, become sharper, and developed.
This modern office workstation desk has bookshelves on the side. Where you can keep some work-related, self-development books that will help your employees to grow a little bit every day. Subsequently, they will get positive energy and their work dedication will be more efficient.
For each person's side, you can make a customized cabinet or drawer for their use. That will give them comfort to work.
It comes in three color combinations. The top of the table is black and the border is white and the aluminum partition color is grey. Which gives it an absolute aesthetic look.
6-Person Modern Executive Desk
If you have a problem with office room space but more workers then this 6 seaters modern executive desk is the perfect solution for you. This workstation desk can accommodate 6 workers. It will take less space to set. And the cubic design of the table shape will give you more space to keep your files and other things. You can add a customized filling cabinet or drawer as per your choice.
The red oak color is a standard color to choose from. It provides a rich and warm look to the office. On the other hand, the presence of the green color complements the overall look.
Office Desk Cubicle and Discussion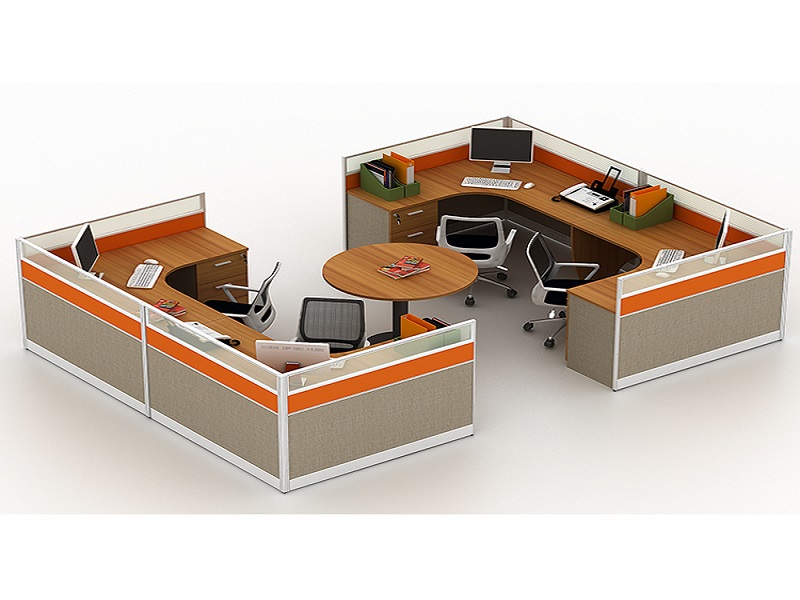 This workstation desk has a unique part.  In this workstation desk with space for four seated workers, there is a discussion table included. Which look completely different from the regular one and creative as well. You can have a little discussion with your colleagues in the middle of your work when it's needed. Therefore, no reason to go to the cafeteria or run next to your office colleague.
It has three drawers on each person's side. As a result, everyone will have drawers, where they will keep their office supplies. So there will be no blending problem with their work files or office supplies. And it has an open shelf under the desk which will provide you with more space to use.
Desk color plays a role in our mood. This warm orange color desk will lighten your mood and boost your energy to work. And the grey color of the section will soothe your eyes.
Modern Office Table
This open-frame modern office table will give you a wow expression to your working environment. The workstation desk is constructed out of melamine board and the metal frame completes the look. It has 4 seats in it. Every seat side has its cabinet. The top of the table has a lot of space to use.
The Gray and black color combination give it a soothing and aesthetic look. Indeed, the glass partition looks more classy.
3-Person Modern Executive Desk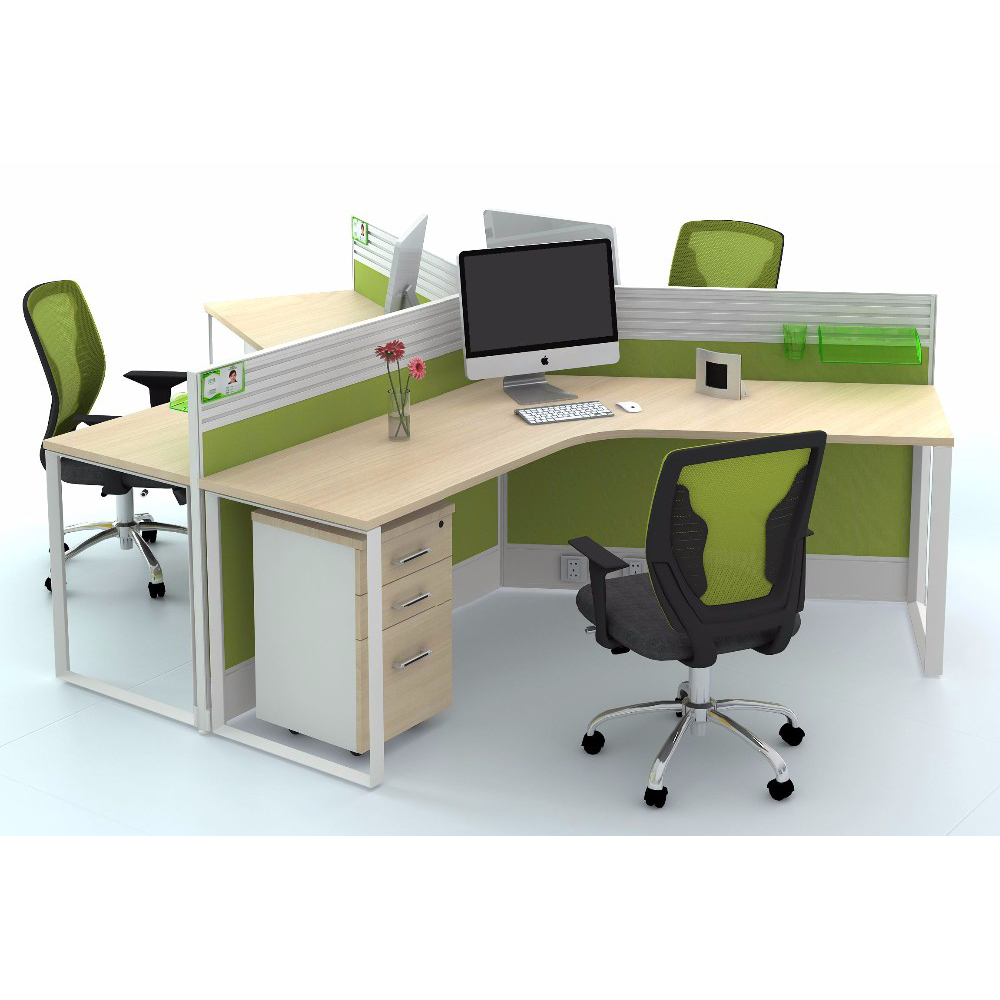 This green modern executive desk is all you needed when you're seeking privacy at your work!
This office workstation desk has a section that is made of fabric and aluminum. So you can do your task without any involvement of others. This desk has more open space so you will be able to move freely.
It has three drawers in it. Two are regular size and one is bigger than usual. Where You can keep your all office supplies and big file organized inside easily.
Experts often suggest keeping a touch of natural color to decorate the office. The sophisticated green color of this desk will soothe your eyesight from a long time of screen time.
2 Seater Workstation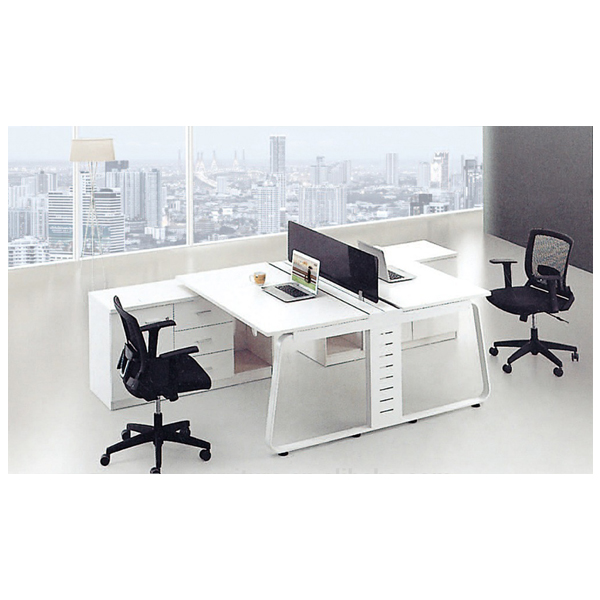 Office workstation desk with two seats a sidelong cabinet and three drawers. modern office workstations. This workstation desk for two people might be your first pick if you're in the market for more space. Besides that, there has another open cabinet where you can keep your office CPU or any other things as per your need.  And the open desk will help to move air easily into your space.
This office workstation color is piano white, which always looks professional.
1 Person Executive Desk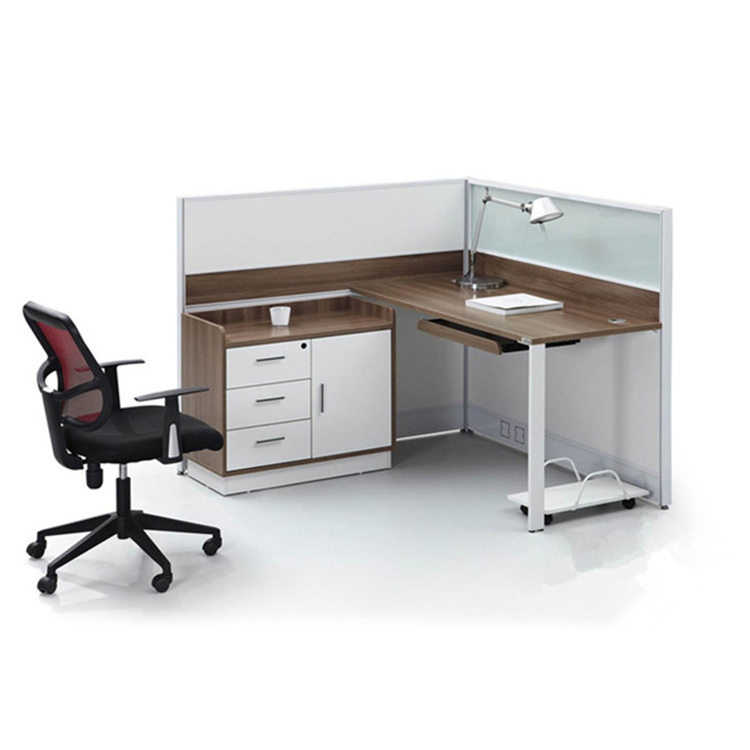 This one-person computer workstation desk has a lot of space to enjoy free movement. Besides, big cabinets and drawers allow for keeping more files in an organized way. In the lower tray, you can keep your important files/ paper while you're working. It will give you extra benefits to keep your things close to you. If you use a desktop at work you can add a keyboard tray and use it easily. On the other open side of the desk, you can add a CPU tray. To clarify, we'll customize the office workstation desk with all these things as per your need.
If you're still confused about which designed office workstation desk you should go for, do not worry. Our creative interior designer has designed the workstation desk for our respected clients for years. Meanwhile, You just tell us about your office and our designer will help you to choose the right one for your budget.