In this blog, we'll discuss with you about 6 best meeting table design for office. So that you can have a picture perfect idea about meeting table & can take the decision yourself which meeting table or conference table you need for your office.
Here are 6 Best Meeting Table Design Table for Office
Meeting table design matters for an office. A well-designed meeting table can boost productivity. Sometimes ready-made meeting table does not fit in the office space. That's why custom design meeting table is the best option to bring to your office. We have the best interior designer in Dhaka, who will guide you to get your get the perfect meeting table for your office space. Cubic interior design firm is one of the best interior design company in Dhaka, Bangladesh. So if you are searching for interior design in Dhaka Bangladesh then your search ends here because of the location of cubic interior design company in Dhaka.
Different Kinds of Meeting Table Design
The shape of a meeting table has a huge impact on a meeting. Ultimately, your conference room's dimensions and layout will determine the type of table you need. A table's size can have an impact on the mood of the room; if it's too big, it can make people feel cramped and uneasy. It's best to pick a design that allows people to get up and down from the table easily and provides them with at least a foot of personal space. As a matter of interior design, the geometry of the room might also influence your choice of table. While the shape of the table you choose should reflect the room's architecture, many individuals go for a round table (a round table for a round room, a rectangular or oval table for a rectangular room, etc).
How the Design of a Table Impact Emotion
Different shapes' lines and curves have been shown to elicit distinct emotional responses in people. Sharper shapes like squares and rectangles encourage sentiments of strength, power, and balance while softer shapes like circles and ovals encourage feelings of friendship, support, and compassion.
The function of the room, the type of employees your firm has, and the industry they work in could all influence the design you choose for the conference room.
Consider the function of the area; if employees will be meeting with clients, a more gentle form may be more appropriate. A square or rectangular may be more appropriate if the conference room is used for board meetings.
Think about how you feel when choosing a conference table. A conference table might just be a piece of furniture, but its design can significantly impact how the meeting goes.
Round Shape Meeting Table Design

A good metaphor is a round meeting table, where everyone sits at the same level. Collaboration is typically best served by making eye contact and giving everyone an equal say in decisions, regardless of their position in the hierarchy. When space is at a premium, it's nice to have the option of a round table for meetings. The round table is practical, adaptable, and visually appealing, making it a good choice for meetings where participation is more important than being the center of attention.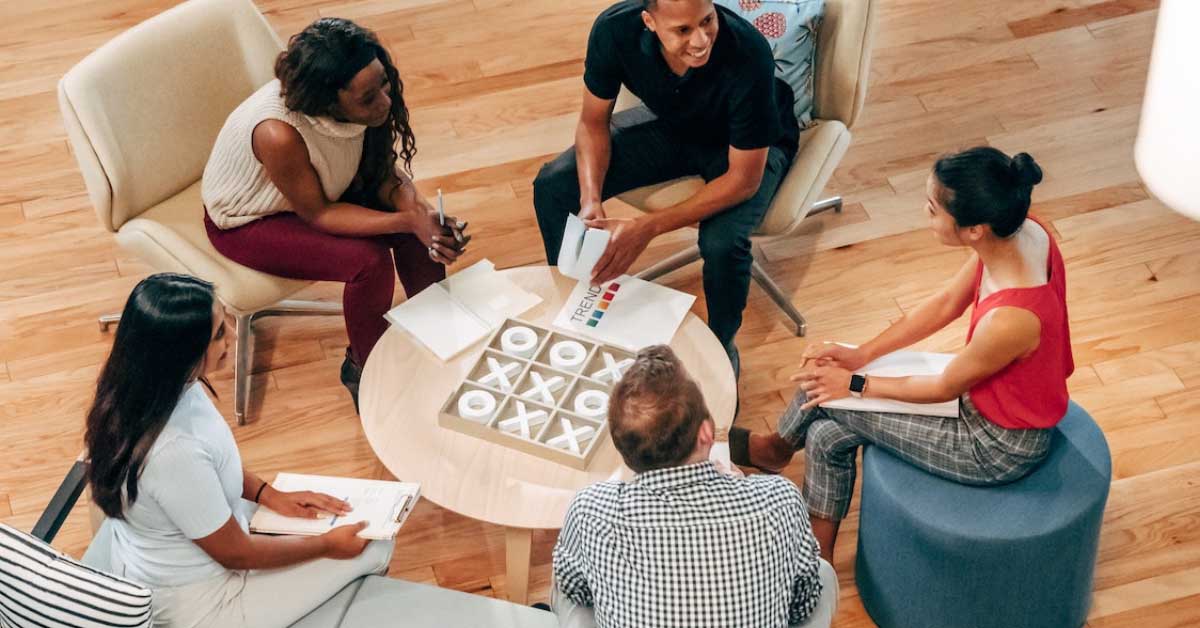 Square Shape Meeting Table Design
A square table can serve its purpose in a round or rectangular area. Square tables are versatile because of the extra room they provide for group activities such as brainstorming, presentations, and general lounging.
It's similar to the rectangular table in that it allows one member of the team to take center stage. There is a wide range of sizes available for square tables; for a cramped conference room, a table of a modest size would do. A major perk of square conference tables is that they can be easily aligned to form a longer table. If you need to seat more people at your table, a rectangular one is the most practical option. In addition to fostering improved communication and comfort among conference attendees, square tables also help promote productivity.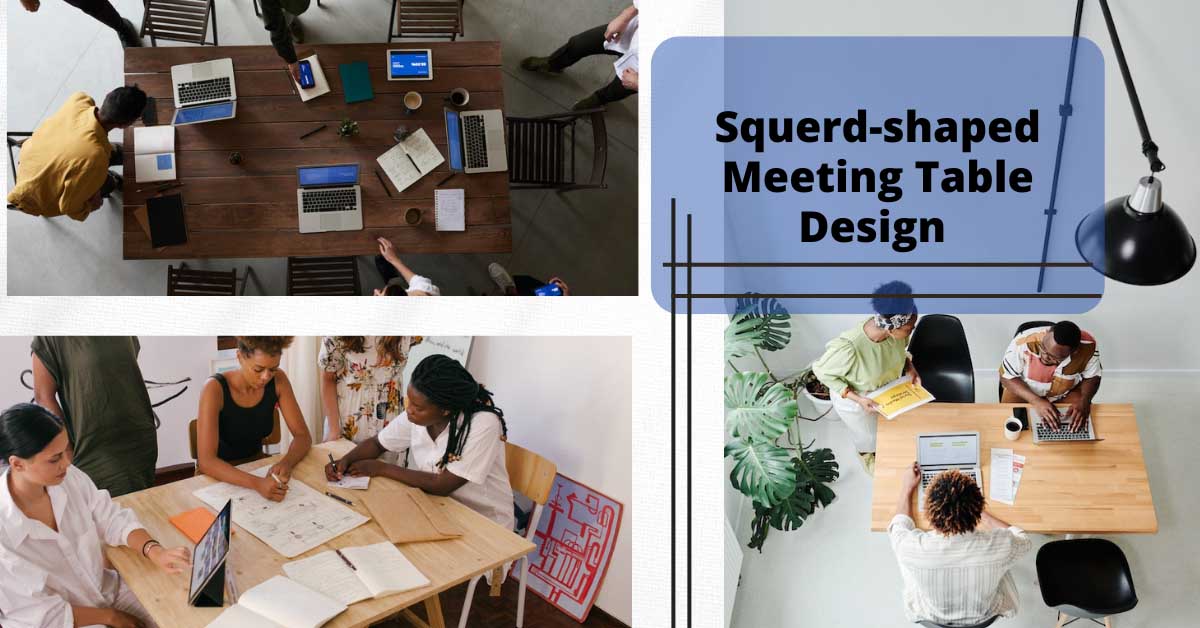 Oval Shape Conference Table

Smaller groups are always at a disadvantage when seated around a rectangular table. If there are only a few people at a conference, the rectangular or square tables will look vacant, and whoever is seated in the far corner will feel out of place. Having an oval table for a meeting ensures that everyone can be seated at a comfortable distance from one another while still being able to see each other clearly. This is why many professionals like oval meeting tables over those of other shapes.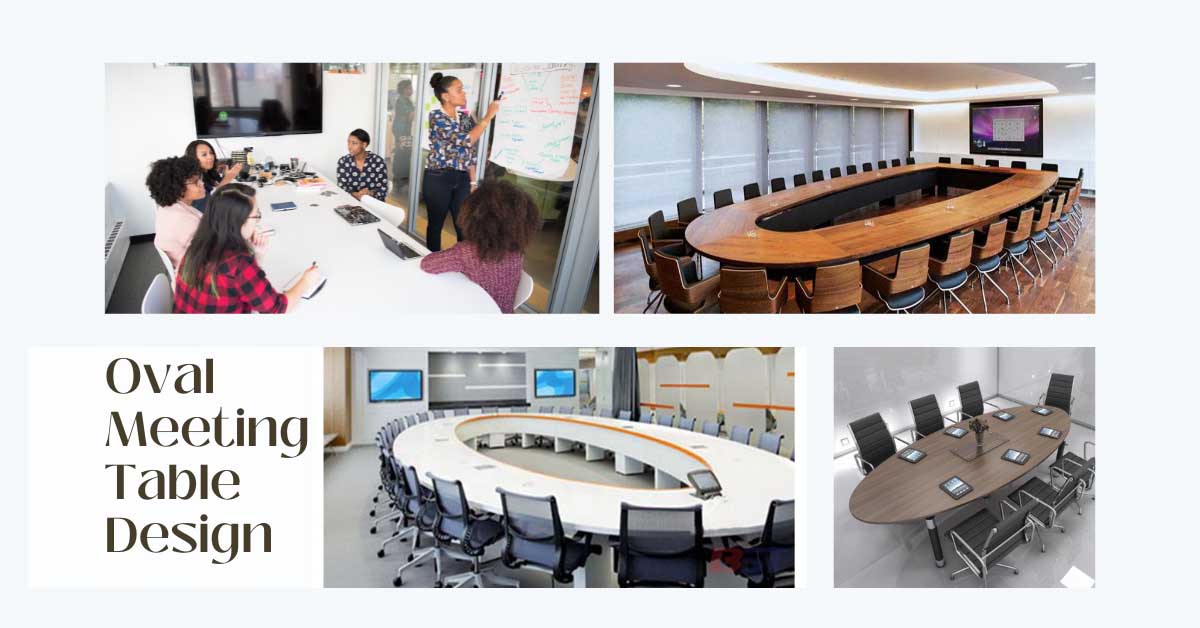 Rectangular Meeting Table Design For Office

The rectangular shape is the most typical and traditional for meetings and gatherings. It represents stability and conformity to established norms and a clear chain of command. A rectangular table projects an air of authority and is the superior choice for formal presentations. Therefore, rather than holding group brainstorming sessions, rectangular tables are more common in executive boardrooms. While a rectangular table may seem like the most straightforward option, the dimensions of that table will send a strong message about your company's culture and approach to teamwork to both current and potential clients and employees.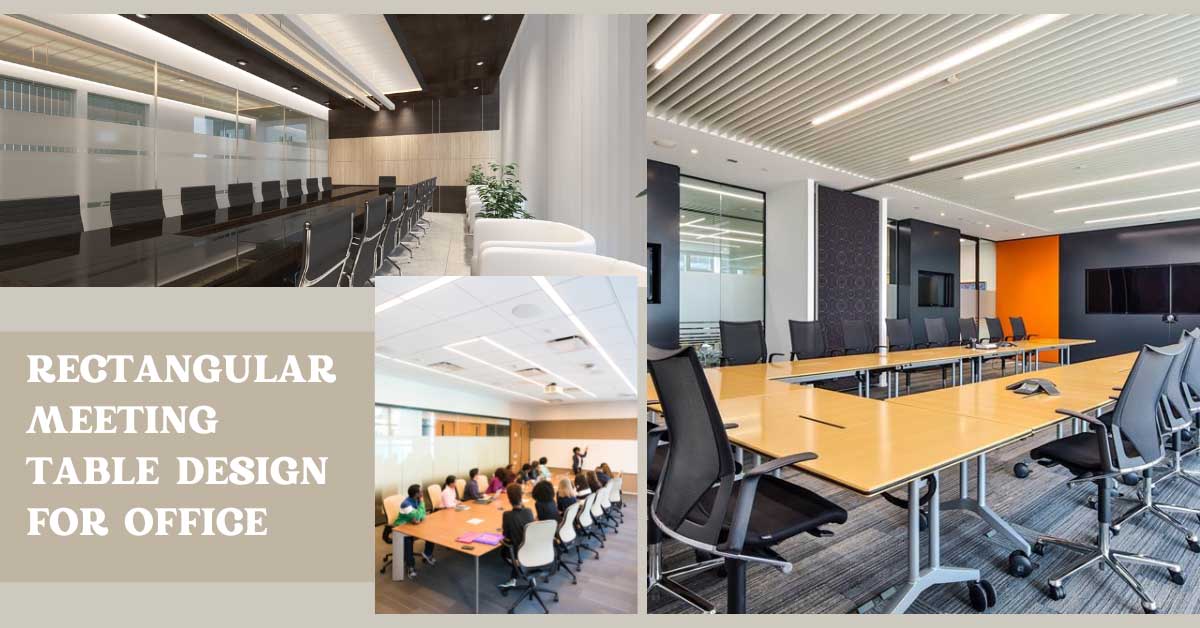 Boat Design Meeting Table

A conference table in the form of a boat is both unique and stylish. They make the conference room appear larger, and the rounded corners are a unique fusion of contemporary and traditional design. When compared to round tables, boat-shaped meeting table design tend to produce a more relaxing and reassuring vibe in the workplace. Its spacious meeting table design accommodates lags, and its sturdy top can hold any number of office essentials without buckling. This table can seat more people while keeping the appearance of the room open and airy.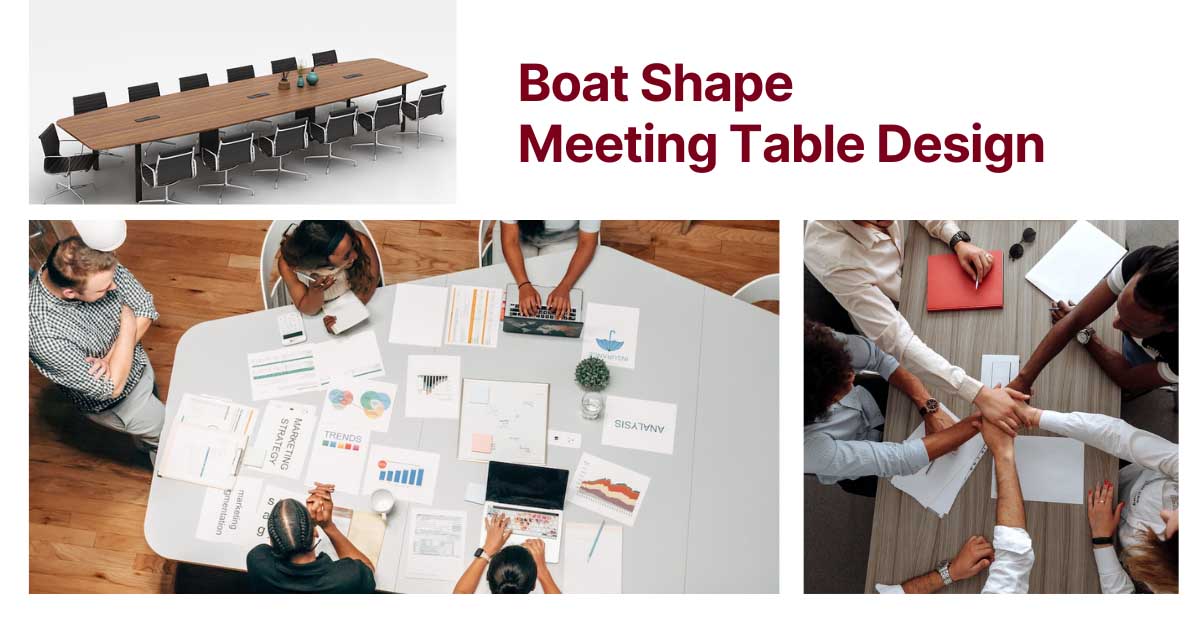 Modular Conference Table Design
Modular meeting tables are the best option if flexibility is your top priority. They boost a space's worth by making it useful for a wider range of purposes, including teaching, video conferencing, and hosting in-person or virtual board meetings. The modular components of a table may be readily rearranged to form different sizes of table, making them ideal for accommodating a wide variety of group sizes. A special feature of some tables is a hinged top that folds over and locks with a bar that is sprung into action. The number of available seats at the table is dependent on its configuration. The fact that these tables can be folded makes them versatile and suitable for usage in a variety of settings with varying space constraints. As this kind of modular meeting table design provides so many advantages, the company is more likely to choose this table.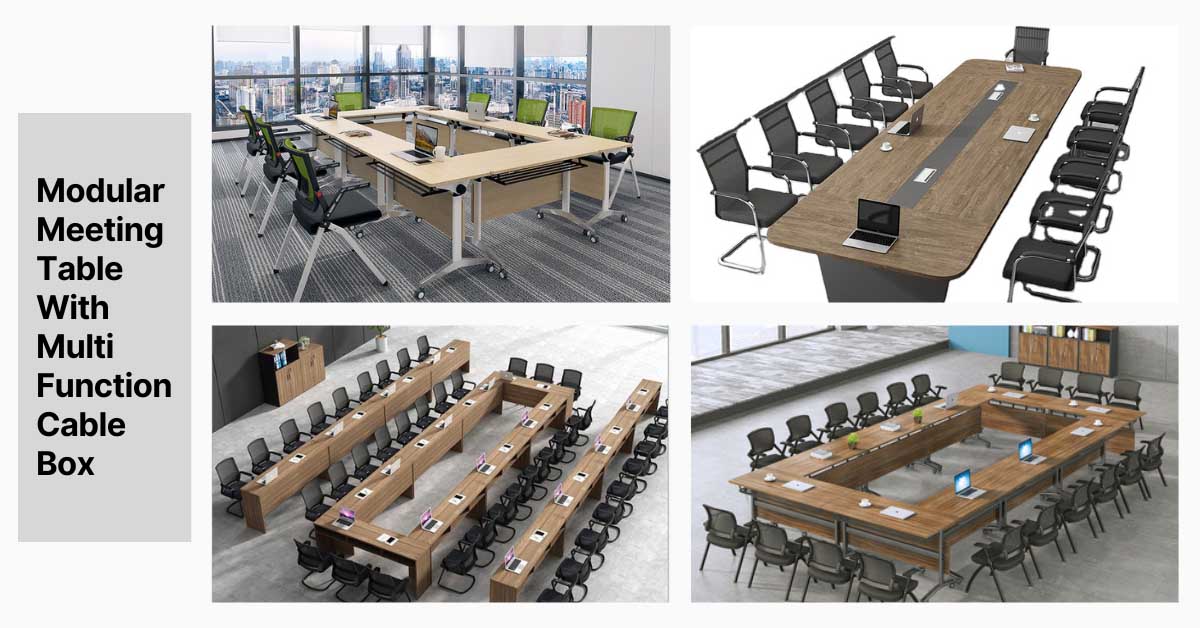 In Conclusion
The meeting table design you choose can have a major effect on the aesthetic and practicality of your conference room. More sophisticated and formal boardroom or meeting table design can give your conference rooms a more business feel. It is important to consider how often and for what purposes you will use your meeting tables when making your selection in light of the growing significance of multifunctional tables. Whether for internal or external meetings, a boardroom or meeting table is increasingly becoming the center of many businesses. Direct Office's staff has extensive background working with office furnishings. We're here to help you find the perfect boardroom table for your needs by providing sound recommendations based on our years of experience. We know how to choose the perfect boardroom table for your office.
We provide the best, most reasonably priced boardroom tables for businesses of any size and in every field of endeavor. Have your pick from a variety of affordable table options!
We are passionate about our work. We are working in this field for more than 10 years with client satisfaction. That's what made us the top interior firm in Dhaka. We have a large number of teams that works for you endlessly. So your seeking for an interior designer in Dhaka ends here. We can assure you that you would meet the most amazing, creative, and best interior designer in Dhaka. Cubic interior design gives services all over Bangladesh. Give us a call or mail us through our mail address to get away our services. Our professional designer will guide you to make your professional meeting table design into reality.
What we do
Cubic interior design is an internationally recognized interior farm in Bangladesh. We do residential interior design, and commercial interior design such as hospitality, fitness center, retail stores, healthcare, hospitals, schools, office spaces, community centers, restaurants, garments, or buying house interiors.
You can check our complete projects here – Our Complete Projects
Get our services
If you need an interior design company in Banani then you can contact us. Our service for the interior is not only based in Dhaka, we give our service all over Bangladesh. Cubic is one of the best interior design firm in Dhaka. See our services regarding Interior- Cubic Services
Seeking expert assistance in creating a unique meeting table?  Contact our experts for any quires-
Our helpline number – +880 1678568811
Stay connected with us on social media – Facebook | Pinterest | Google Business Page | Twitter
You are always warmly welcome to our office for any help. Let's talk about your innovative office interior goal while sipping coffee. Our location on google
Check out our top-notch quality office furniture Shop with Cubic